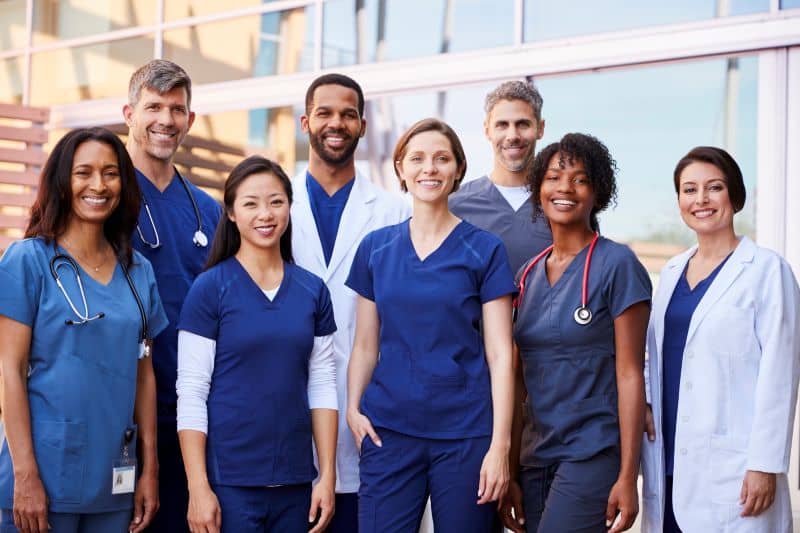 AMN Healthcare Clinical Workforce Survey
HEALTHCARE DELIVERY IN THE UNITED STATES IS CHANGING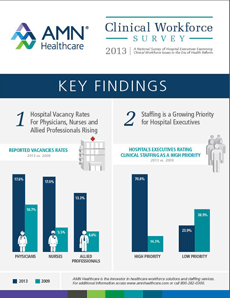 A growing number of providers, including health systems, community hospitals, academic centers, medical groups, community health centers, urgent care centers, free-standing emergency rooms and others, are seeking to provide better care at a better value. Rather than generating a high volume of services, the goal is to achieve value for patients.

The movement away from volume and towards value is predicated on a number of factors: information technology implementation, new treatment protocols, service integration and global payment systems, among others.

Even in an era of profound change, however, one constant remains. Healthcare delivery is still about people. The physicians, nurses, advanced practitioners, and allied health professionals on the front lines of care are still critical to the access, quality and cost of the services patients receive. Without a robust, dedicated and integrated workforce, quality, cost and other goals cannot be achieved.

AMN Healthcare, the nation's largest innovator of healthcare workforce solutions, is committed to reporting on healthcare workforce trends and to addressing healthcare workforce challenges. As part of this effort, we conduct annual surveys examining workforce trends among various clinicians, including physicians, nurses, advanced practitioners and allied healthcare professionals, as well as healthcare facility administrators.

AMN Healthcare's 2013 Clinical Workforce Survey looks at healthcare workforce issues from the perspective of hospital leaders, including chief executive officers (CEOs), chief financial officers (CFOs), department heads and others. The survey reflects the strategic emphasis hospital leaders place on workforce challenges, how they view the current supply of healthcare professionals, whether the need for such professionals is growing or diminishing, the vacancy rate of healthcare professionals, and related issues.

Survey results are offered as an informational resource for healthcare executives, policy makers, academics, staffing professionals, journalists and others who follow workforce trends in the context of today's rapidly evolving healthcare system.