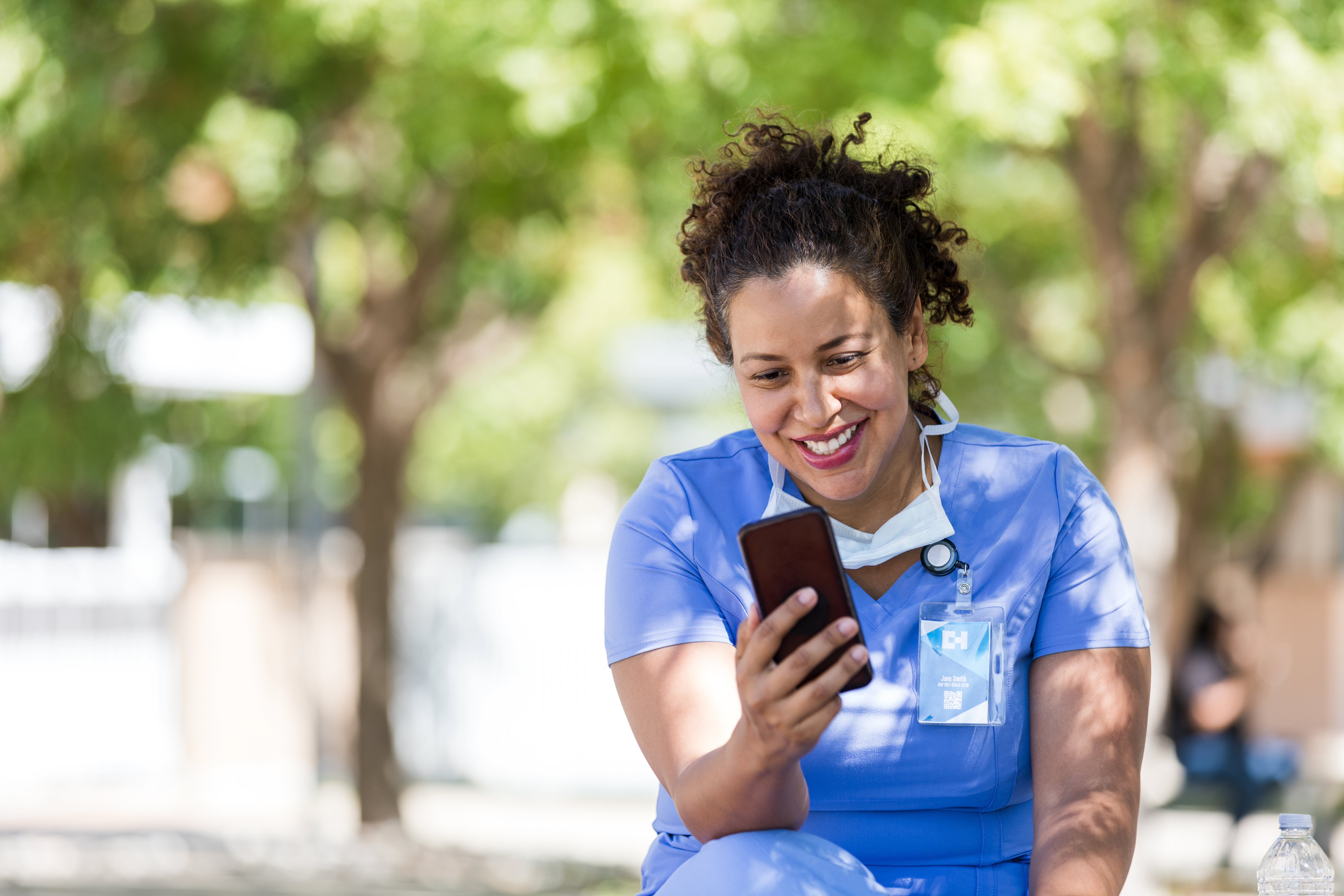 Simplify the Credentialing Process with the AMN Passport App
Credentialing can be tedious if you're not sure where to begin. And while you may already know that the gist of the healthcare credentialing process involves the evaluation of a clinician's professional licenses, certifications, registrations, and core competencies, it's not always easy to know what to include or where to keep these important documents. That is until now with the AMN Passport App.
At AMN Healthcare, we listened to the credentialing and licensing frustrations of clinicians just like you and created a streamlined, easy credentialing process that can be accessed through a simple download of our AMN Passport App.
Keep reading to learn more about the healthcare credentialing process and how our intuitive App can help make your journey to new healthcare career success so much more efficient.
The Purpose of Healthcare Credentialing
The purpose of credentialing for any healthcare professional is to make sure they have mastered the right education levels, skillsets, degree requirements, testing, and experience to work with patients. Governing bodies such as the American Nurses Association and The National Committee for Quality Assurance (NCQA) have established guidelines and standards upon which the credentialing process is based.
In addition, separate agencies for many disciplines, like therapies (PT, OT, SLP), for example, all have specific requirements that must be considered during the process. Put simply, this means there are a lot of moving parts that must be synced and understood in order to be successful.
When the process is complete, healthcare facilities have a verified level of confidence that the patients in the clinician's care will be well taken care of.
Nurse Credentialing Examples/Requirements
To give you a better idea of what the requirements for the nurse credentialing process are, the following will typically be part of a well-rounded vetting process:
Verification that a nurse completed an RN degree program from an approved, accredited institution of higher learning (or eligibility for pending graduation)
Completion and appropriate scoring on the NCLEX-RN exam
Criminal background checks in states where required
Specialty specific courses where necessary (NICU, Psychiatric, Ambulatory Care, for example)
While allied health credentialing requires a different set of standards, it basically mimics the same requirements as nurses but with discipline-specific parameters. Respiratory therapists, for example, have a separate set of requirements and licensing than medical lab technicians or imaging specialists must complete.
AMN Passport Makes the Healthcare Credentialing Process Simple and Efficient
The AMN Passport App provides a personalized career concierge experience with endless features to help healthcare professionals be fully prepared for any potential assignment across the country. The App is basically a one-stop shop where clinicians can browse exclusive job opportunities, customize job search preferences, enable job match notifications, book assignments, manage pay, and safely store contracts and credentials.
In addition, the App helps users throughout the entire nursing or allied health credentialing process by providing notifications when any items have been accepted, rejected, or need additional attention. In essence, it's a set-it-and-forget-it resource that allows you to go about your daily routine until you're notified of next steps.
The beauty of AMN Passport is its versatility and usefulness to a variety of clinicians, including nurses in all specialties and the range of allied professionals in imaging, laboratory, therapy, pharmacy, and respiratory disciplines.
For example, the App creates a convenient link to sign documents through DocuSign, making the process easy and efficient for both the clinician and the facility. And you can easily handle I-9 submissions, drug screens, and any other document requirements that may be necessary in one handy App.
Finally, the App provides notifications when licenses or other important information is close to expiration, giving you ample time to get recertified or apply for necessary licensing updates.
AMN Passport is Like the HR Contact You Didn't Know You Had
By keeping you updated on compliance and healthcare credentialing needs, and by helping you match your skillsets to jobs across the country, you'll have the power of a recruiter in the palm of your hands. When you're ready to look for travel nursing or allied travel jobs in locations across the country, simply log on to the App and begin your search.
When you find the ideal job for your preferences and lifestyle, you can immediately show interest and begin the application process while the App guides you through the necessary steps for success. From there, connecting with your new facility is a breeze.
Additional Help is Always Available
While AMN Passport provides an intuitive process for every step of the credentialing, job search, and placement process, you're always just a quick email away from a credentialing analyst within AMN Healthcare who can help you with any outlying questions or concerns.
Yes, healthcare credentialing really can be that easy with AMN Passport. Make sure to download the App today. Choose either iOS or Android-based versions depending on your phone's operating system.
To learn more about AMN Passport, connect with one of our expert staff members here.